Merry Christmas from citymade!
For the next few posts we are going to feature some of the gifts we have made (or found). Our first gift, Linen Bookmarks.
We had linen pants, old shirts and pillow cases. Our girlies drew some holiday pictures (in sharpie) on the linen. Melany and I embroidered around their drawings, sewed a back and a ribbon on.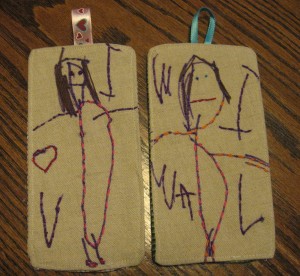 Now we have super cute bookmarks to give Grandparents (or anyone else lucky enough to receive one)
By the way- we saw this idea on one of our favorite sites .