Here is a cute way to get the kids involved with the story of Christmas.
We took a tissue box (bonus that it had a bamboo background). Cut off the bottom. Then took cork, and some other odds and ends and made a Joseph and Mary.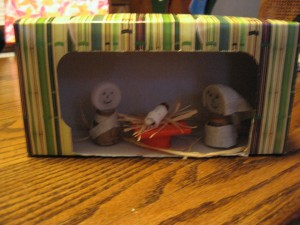 With an old bead form a necklace we made a baby Jesus, wrapped in swaddling.
Some raffia for hay, and you have a homemade Nativity scene. And the kids can totally touch it, because it isn't fancy adn made of glass.
(Obviously we celebrate the Christian idea of Christmas. If that is not your belief, you can always make you diorama something else: Kwanza fesival scene, Hannukah scene, crazy shopping scene. Be creative.)