Carol here. I am super excited this week because this week we are making handmade books. I have had a passion (maybe obsession) with paper and book making for years. There is nothing I love better than holding a book that I have just made. For Christian and my 12th wedding anniversary, he gave me a nipping press. Now, imagine if you really like jewelry and your hubby buys you an amazing ring or pair of earrings. That is exactly how I felt when I opened the enormous box and saw the beautiful press.
A nipping press is a fast way to apply a lot of pressure in order to flatten and stabilize books and paper in bookbinding. We will be using the press for a lot of our projects this week.
In our first bookbinding project, we used an old magazine as the  cover and the end papers of a small sketch book.
I cut out some pictures of paintings and glued them on to the book board.
I also took out a page from the magazine and used it as the endpapers.
Then I assembled the book and set it in the nipping press. The result is this great sketchbook.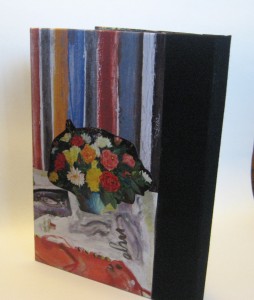 The blank paper inside is also recycled paper. It is old stationary that my husband brought home form work.